So I always get the question of who is doing my cake... What does it look like? Etc. So without further ado... HERE IT IS!
A little background on how we found and ultimately picked ours:

Our reception local is a very large room so I wanted my cake to have a presence in the room so I wanted a BIG cake!
I was set on another local baker in the Greenville area. We went to her and she designed a beautiful 5 layer cake... for $650! Above our budget. Well we told her it was too much and hoped she would try to refigure and redraw something that would fit into our budget. So we took the drawing and said we'd think about it. In the mean time we set up 2 other appointments with 2 other bakers. The second appointment was the same as the first. Great cake... HUGE price! She was the same didn't really give many options but wouldn't let me take the drawing that we custom designed because it was hers. She was out before I even left the room!
The last appointment was with a wonderful woman named Holly of Holly's Cakes. As you all know I am a photographer and had shot a wedding where she had a cake. I'm very particular about cakes. I don't like crunchy icing (you know... where the cake has sat out for a while and the outer part of the icing gets crunchy) and upon eating this delicious cake at this wedding I asked who did it and they said Holly's. So I knew going in that she had great cakes the question was could she work with us... So we went through the same motions as before and she gave a great cake with again... a bigger price tag than we wanted. So mom, Michael, and I are discussing this issue as she is doing something with that pencil of hers. She flips around this paper and my mouth drops. It's a 4 tier (yes I know I said I wanted 5 but keep reading!) cake with everything that we had wanted with a HUGE separator to add height and the faux ice blocks as the stand. I couldn't believe it! And the best part... we were getting more slices than with the 5 tier (the bottom tier was fake) and it was right on our budget!
So what does it look like? I'll post it next :) But our flavors are:
Bottom: White Cake with Butter Cream Filling
Second: Yellow and Chocolate Marble Cake with Fudge Filling
Third: Strawberry Cake with Butter Cream Filling
Top: Hummingbird Cake with Butter Cream Filling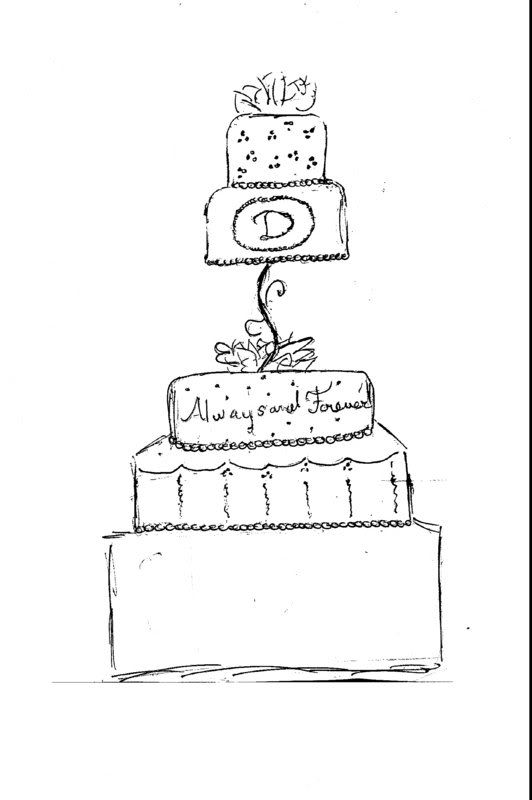 Needless to say, I have been a spokes person for her ever since. She is such a wonderful woman and she does GREAT work. You can see her website at
http://www.hollyscakes.com/
and if you would like more information on her please feel free to contact me. Below are some of her cakes...